What is Network Automation?
Network automation is widely referred to as a technology to plan, configure and deploy network devices in a Data Center, Campus or Wide-area-network with corporate network policies (e.g. templates). These templates can be applied to one single network device or up to thousands of switches, routers or Access-Points, thus minimizing the deployment time for new sites or Top-of-the Rack Switches in Data Centers.
What does Network Automation solutions offer?
Deployment of multiple physical network devices (switches, routers, access-points, wireless-lan controllers, etc.)
Deployment of virtual devices in Data Centers or in the Cloud (e.g. vSwitches, vRouters…)
Ensuring corporate-wide network configuration standards (Compliance)
Ensuring network security as defined by the office of the CIO/CISO
Collection of network data (system health, software version, serial numbers, network topology…)
Easy Port configurations and troubleshooting (vlan tagging, uplinks to other devices etc.)
Updating firmware of network devices
Automated migration from one vendor to another (vendor A to vendor B)
Zero-Touch-Provisioning of network devices, helpful for remote sites with no IT staff onsite
Dashboards, alerts and alarms
What are the key benefits for companies to use network automation?
Simplifying network operations and lowering operational costs – By automating network specific functions or policies on devices, the IT staff no longer has to perform time-consuming tasks
Eliminating human errors and reduction in downtime – By eliminating the chance for human errors, business can offer their customers better quality products and services.
Implementing corporate-wide standards – By using a templates-driven approach companies can ensure, that each network device within their domain is configured according to corporate policies
Better insight – IT staff gets more visibility of the network data and health which in turns allows them to react faster or be more proactive
SDN: By using a smart Network Automation Tool, IT can implement their Software-Defined-Networking strategy much faster in order to reduce costs and to run applications on top of a more dynamic network.
Open Networking – Organizations can purchase and migrate to lower-cost and more flexible open networking hardware (white-box and brite-box switches) because network automation tools can provide smoother migration and daily network operations.
Increased Security – All of the above items ensures a resilient network thus increasing the trust of businesses and customers
How does Network Automation work?
In many cases a Network Automation solution requires a centralized Software with Controllers to deploy templates and collect network-related data for the netops teams.
The other big factor are the technologies on the network devices which allows for smart automation. The three ingredients for integrating a network automation solution are:
Centralized software with controllers
Network Devices with a rich feature-set for automation
Variety of network templates and policies, ideally pre-defined and easy to adapt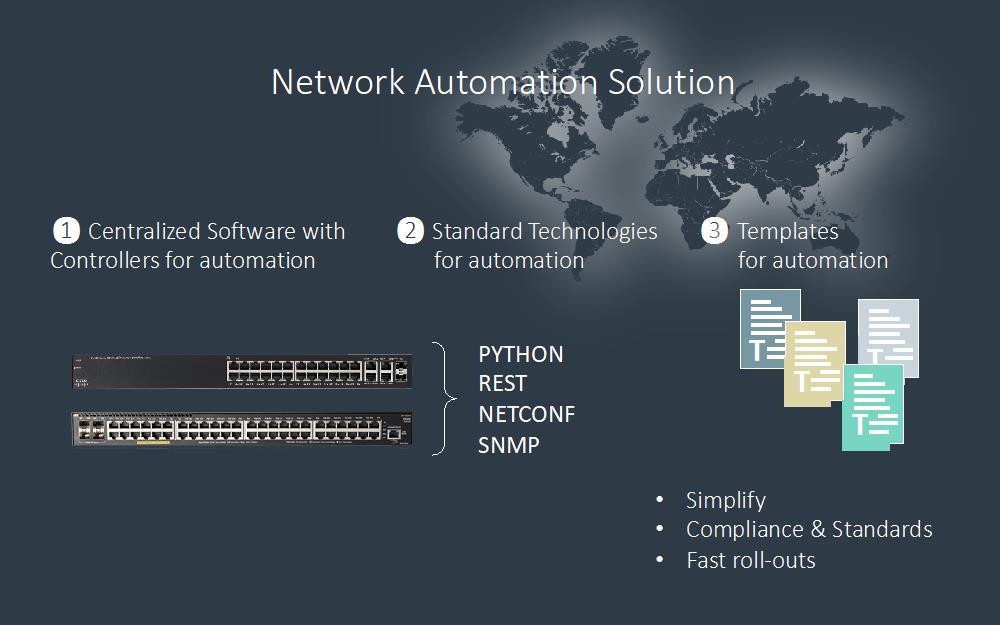 What are the use cases for Network Automation?
Network Automation is not limited to any particular size of a company. Each Enterprise, small, medium or large, can tremendously benefit from smart Network Automation Solutions, as mentioned above. Though mid-sized to Large companies tend to adapt this more often due to the amount of devices the netops teams have to manage. There are different use–cases for companies to look into a Network Automation Solution. Few scenarios have been listed here:
Scenario 1:
Challenge: ACME is a real-estate company with 200+ business offices worldwide but with very limited resources in IT. The company has decided to offer mobile workplaces to save operational costs. Mobile workplaces allow for a greater flexibility but at the same time poses big network security challenges for the IT security team.
Solution: With Network Automation the port configs on network switches can be aligned and standardized worldwide with pre-defined templates, so any user has to authenticate himself first and will be assigned the corporate security policies dynamically which in turn increases the security level within the organization.
Scenario 2:
Challenge: Company ACME is a global manufacturer and has centralized all his critical services in regional data centers. The companies testing department has a lot of testing tasks to do before their product can go into production, that is why they need their Testing Servers and Applications to be provisioned on the network secure, fast and error-free.
Solution: With Network Automation special templates can be built for the testing servers & applications and they can be deployed on Data Center Switches in a very short time. Since no manual task is involved, all network devices are provisioned error-free. Also, with cloud-based remote automation & management solutions, the netops team can easily deploy switches, routers and Wireless LAN centrally without being on-site (Zero-touch-Provisioning).
Scenario 3:
Challenge: Company ACME is a mid-sized pharmaceutical company with geographically distributed labs for their R&D. Due to the criticality of the labs the CIO has decided to use a dual network vendor strategy, in order to avoid a vendor-specific bug resulting in overall downtime. The IT staff has yet not been sent to the trainings for the new network vendor. The IT manager is concerned both about the additional costs caused by the training and how quickly the new manufacturer can be deployed.
Solution: With smart Network Automation solutions, users can deploy and manage multiple vendors at the same time without learning the vendor-specific language CLI (Command-Line-Interface). Network Automation Solutions offers pre-defined templates and playbooks to cope with a dual vendor strategy from day one.
Network Automation with racksnet®
racksnet was founded by experienced network consultants. With a vast experience in networks operations and consulting, racksnet offers tailor-fit SAAS solutions to Companies worldwide. Our unique Network Whiteboard and multivendor templates makes network operations easy and secure at the same time.
racksnet is an official member of the Open Networking Foundation (ONF).