racksnet® Network Automation
Convenient network automation for campus edge, data center & IoT networks, with unified GUI for all vendors
With racksnet® you can effortlessly automate your IT network, whether in campus edge, data center or IoT. The smart and convenient network automation software relieves your IT staff of all those tiresome, repetitive and time-consuming tasks.
Functions of the Network Automation Software at a glance
Special feature
Our customers decide when, where and how and on which site controllers they perform tasks.
Main customer benefit
Complete independence of time and place. Important network tasks can be planned and configured during core working hours and rolled out on weekends, for example.
Notes
There are no measures required on site, that means at the location itself, for the provision of network resources. All configurations are deployed via the racksnet® Cloud.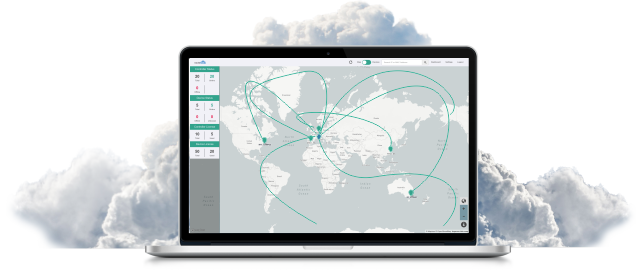 Status bar
At a glance – controller and device status
Any time, any place
24/7 access to your IT locations
Special feature
Users do not need additional, specific scripting knowledge
Main customer benefit
Complete elimination of time and cost intensive training and coaching sessions
Notes
The Drag & Drop GUI of the software is uniformly designed for all professional network device vendors and can be operated intuitively and easily by everyone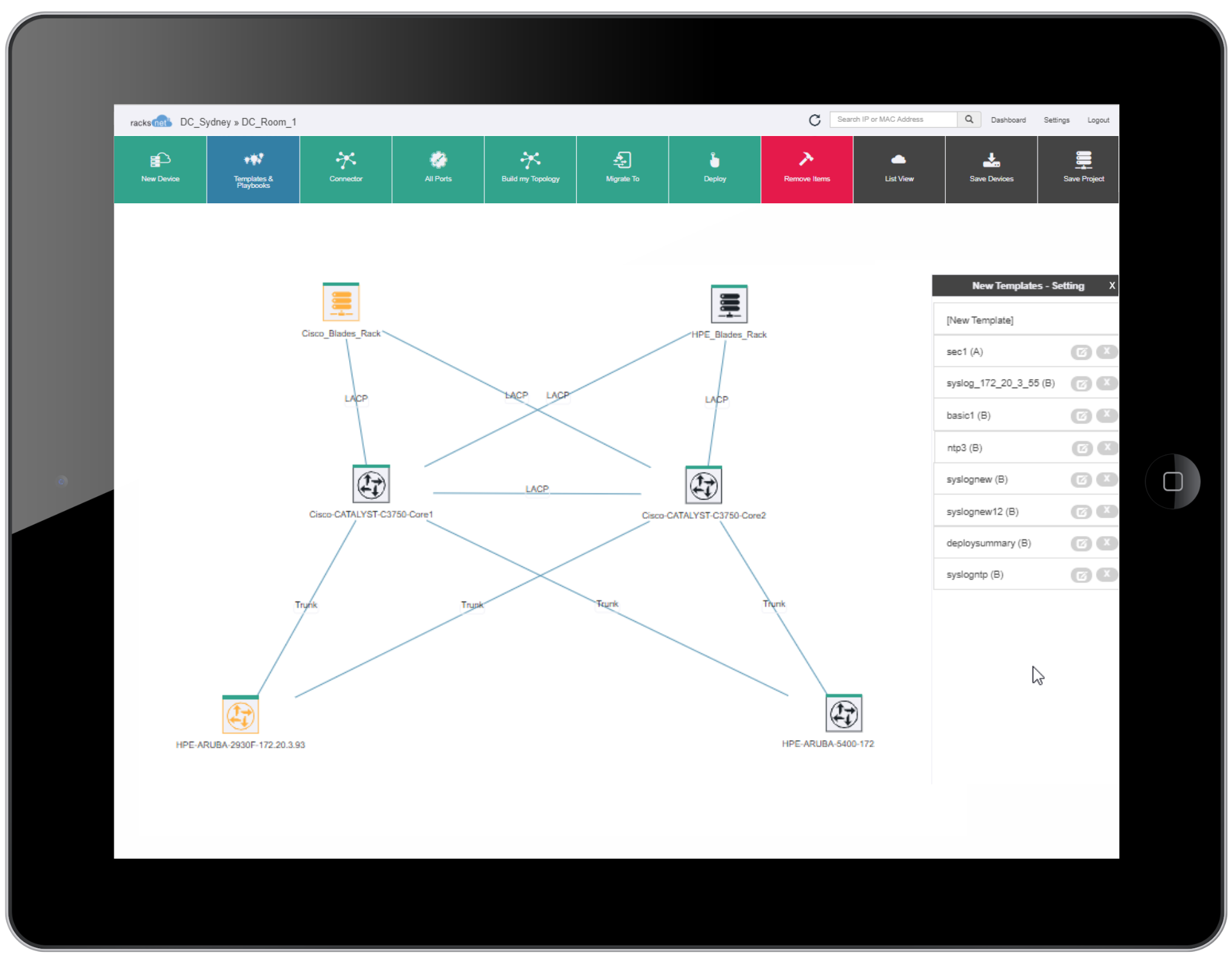 Function bar
Direct access to primary functions
Tool bar
Context-sensitive fly-out menu (here: Template Manager)
Whiteboard
Planning & Configuration
Orchestration Manager
Vendor-independent Open Networking
Special feature
The multilateral functional structure of the software enables customers to manage multiple locations centrally.
Main customer benefit
Faster accessibility to the entire corporate IT infrastructure, regardless of country or time zone
Notes
The software manages and interacts with any quantity of SDN controllers (sites) and thus also with the associated site infrastructure; e.g. data center, campus, IoT, WAN
Planning location
e.g. Research and Development data
Data Center
Data core and central data library
Production site
IoT – machine data/production processing
racksnet® Cloud
Communication with location controllers and central command processing
Special feature
Identification and full documentation of the complete hardware infrastructure, independent of vendor and device
Main customer benefit
Eliminates the tedious, time-consuming use of multiple proprietary solutions to capture different devices
Notes
The function detects all devices at a site (SDN controlled) and shows the vendor, series, IP, MAC address and physical location within the network
Special feature
One to one network duplication across vendors and devices within seconds
Main customer benefit
Elimination of time-consuming configurations when setting up or implementing new company locations
Notes
Creating identical networks or sub-networks including all network and device settings, using drag & drop procedures
Function bar
Direct access to primary functions
Tool bar
Context-sensitive fly-out menu (here: Template Manager)
Whiteboard
Planning & Configuration
Orchestration Manager
Vendor-independent Open Networking
Special feature
The world's first automation software that fully complies with the Open Networking Standard
Main customer benefit
Adjustment of the racksnet® software to customer and market relevant application requirements and habits
Notes
racksnet® offers its partners to combine the advantages of network automation with their own applications, e.g. security or UC via API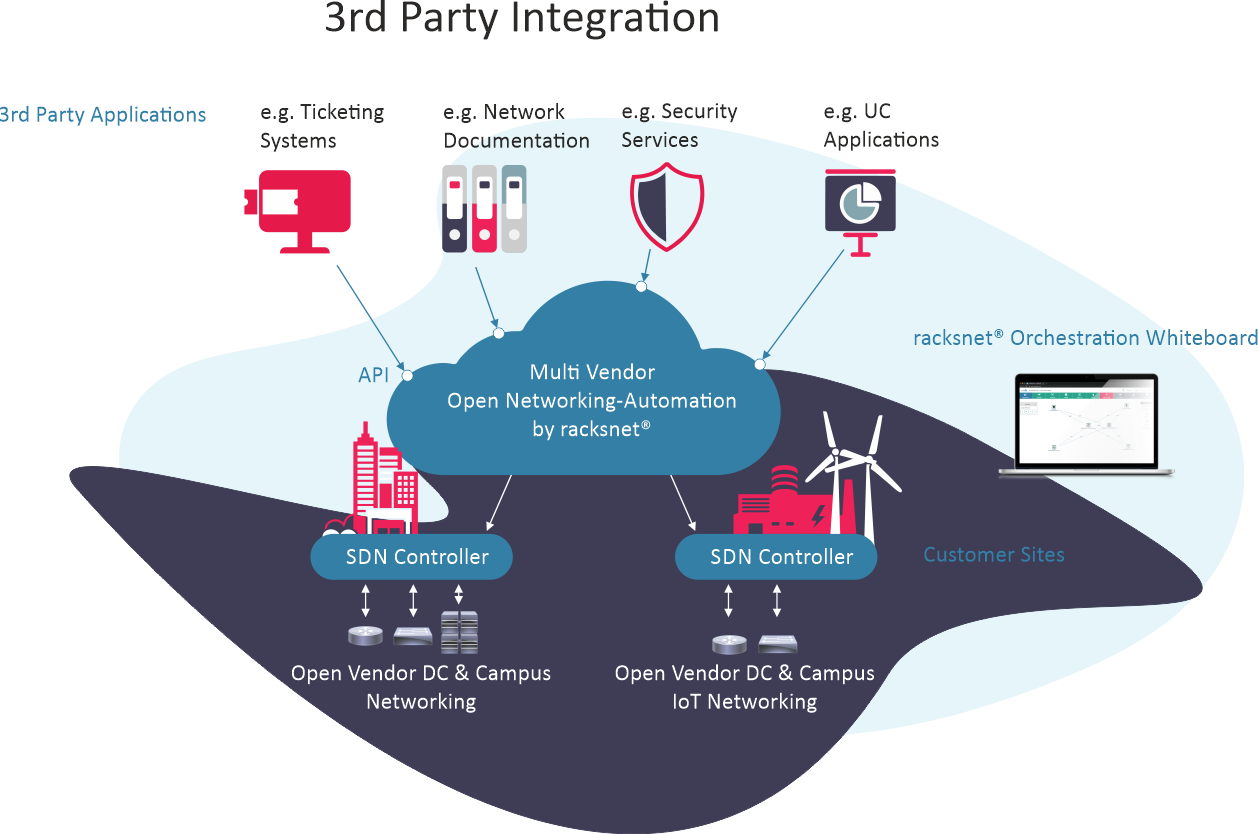 Open Networking accelerates your IT organization into new dimensions
In separating hardware and software, the open networking technology of racksnet® goes significantly over and above the possibilities of conventional systems.
Unlike proprietary virtualization solutions, Multi Vendor Open Networking eliminates all vendor lock-in restrictions on the underlying hardware, which not only has a positive effect on your organization's budget resources, but also eliminates the need for time-consuming and costly vendor-specific training for your IT teams.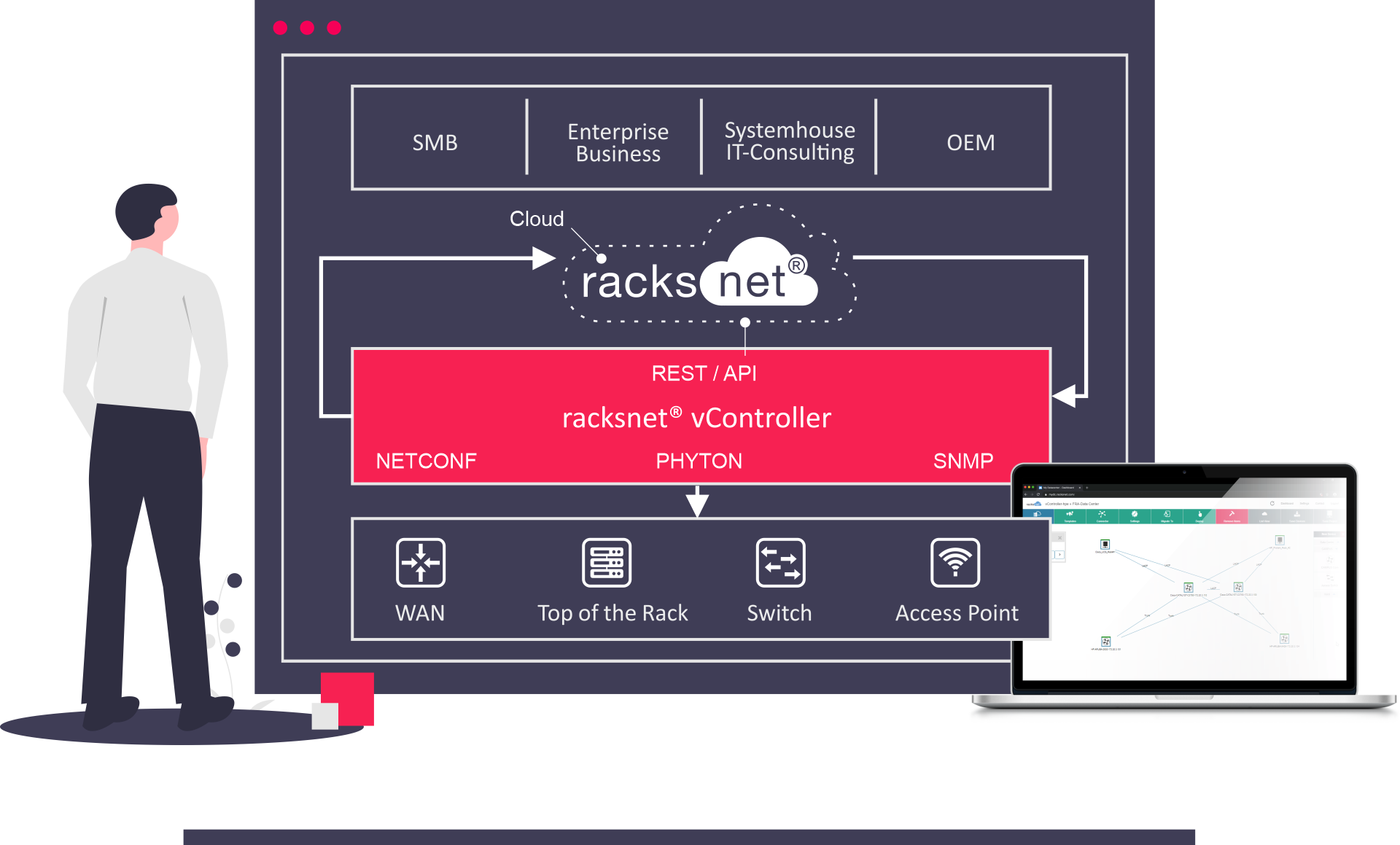 Customer Segments
Individual, application-related software modulation
Open API
Standard North- & Southbound API with innovative state-of-the-art scripting language
racksnet® Master Cloud Controller
Controlling of single-site or multi-site SDN (racksnet®) vController at a network location
Infrastructur Whiteboard Layer
Planning, configuration and automation at site level
Network Automation Cloud Software (NACS)
Smart Software Defined Networking with racksnet®
At the heart of the racksnet® architecture you will find the racksnet® Cloud, the racksnet® vController and the innovative drag & drop whiteboard GUI as the orchestration manager of the entire network automation.
Network Cloning
Ready for immediate use. New devices or a new building at the push of a button.
The cloning function does not simply copy your network infrastructure, it ensures a complete duplication of the original, including all the device configurations.
Read more ...
Port Setting Wizard
Perfect connection with the Port Setting Wizard.
The more complex the IT network, the higher the risk of error. The Port Setting Wizard checks for possible port assignment errors during the configuration.
Read more ...
Inventory Scanning
Alway know what works where, how and why.
A complete, and especially cross-vendor inventory of your network infrastructure simply improves your level of safety when managing and automating your IT tasks. The Inventory Scan provides you with a quick overview of your device infrastructure including all information on manufacturer, device type, serial number, IP, firmware and above all location.
Read more ...
3rd Party-Integration
A new perspective for the automation of 3rd party applications.
racksnet® offers numerous options for network automation; e.g. also based on APIs. Thus, the software extends the automation potential also to 3rd party applications. No matter whether security, ticketing or UC solutions such as Microsoft Office 365 Teams, with racksnet® your IT team finally combines all advantages of network automation with numerous end applications.
Read more ...
Vendor Migration
Worldwide unique
With just a few mouse clicks, Vendor Migration ensures that devices from one vendor can be read and configured as if they were devices from another vendor and vice versa. For your employees, it no longer matters which vendor they are certified to. Our intuitive software manages all common config scripts from Cisco, Hewlett Packard Enterprise and DELL EMC. The racksnet® solution is not only multilingual, but also error-free, as it largely eliminates the error-prone CLI level with its drag & drop user interface.
Read more ...
Are you open for a live demo?
During the live demo you will get to know our product without obligation – and us! In this context, we will also be happy to advise you on the optimal use of our product in your individual environment.
Learn more about the application possibilities of racksnet® network automation